Self-Ligating Brackets and Treatment Efficiency
Harradine NWT. Clinical Orthodontics and Research 2001; 4:220-227.
Objective
To compare the resistance to sliding among different self-ligating brackets in dry and wet states. Methodology
To compare treatment times, speed of ligation, and quality of outcome in cases treated with Damon™ SL brackets versus conventional straightwire twin brackets. Methodology
A total of 60 patients were enrolled in this study. Out of those patients, 30 consecutive patients were treated with Damon SL brackets and 30 with conventional brackets. All were treated by the author utilizing conventional treatment mechanics. All cases were evaluated for treatment times, the time required for wire changes, and finally, for quality of outcome as determined by the PAR*scoring method.
Results
Treatment times for the Damon patients were 4 months shorter than those treated with conventional brackets.
Patients treated with Damon brackets required 30% fewer appointments.
Damon's bracket slide opening and closing were significantly faster than conventional bracket ligation.
Starting from statistically equivalent PAR scores, Damon cases finished an average of 20% better than non-Damon cases.
Conclusion
Damon treatment is faster, requires less chair time and fewer appointments, and yields higher quality results* than conventionally ligated straightwire appliances.
Treatment Time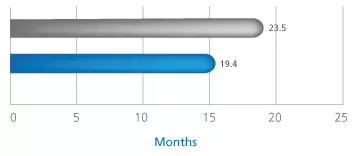 Number of Appointments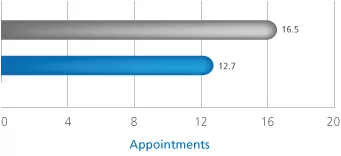 Quality of Treatment Results